CALCUTTA FANS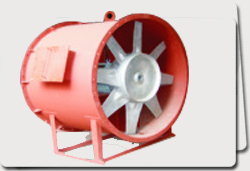 These Fans are used by the Tea Industry for Withering of green leaf. Size of fans required, depends on overall parameters i.e. Trough size, thickness of leaf spread, elevation of factory and CFM requirement, normally calculated @ 25 CFM / FT at ½ Wg. Pressure.
Dynamically Balanced aluminum alloy impeller mounted directly on motor shaft .

Guaranteed air delivery.

Cast Aluminum alloy impeller of aerofoil section.

Impeller is perfectly balanced and mounted directly on the motor shaft.

Heavy Gauge MS casing for ensuring longer life and lesser vibration.

Available in various sizes 36", 40", 48", 52" and 54". CFM 18000 to 55000 CFM.
Application
Withering fans come in five popular sizes to suit the size of through you can conveniently make (also suitable for sorting room applications as exhaust fans arid for Java Tunnels ).

Construction
Single piece 6-bladed cast aluminum alloy impellers house in a heavy sheet metal casing. Direct driven by a totally enclosed fan cooled motor (of reputated make), the motor sits on a sturdy 'T' shaped base made of thick plate. Impellers bore provided with cast iron bush to ensure perfect fit on motor shaft. An inlet protection guard standard on all Withering axial fans.

Testing
Each fan is dynamically balanced and individually checked in the wind tunnels for rated air volumes, static pressure and power consumption. Withering fan performance are rated with respect to mean sea level.

Advantages
Withering fans with cast impellers have the obvious advantage of sturdiness and a constant reliable air delivery without any chance of overloading the motor specially in the case of adjustable bladed fans.
Performance as per IS : 6272