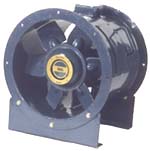 The EPC Axial Flow Fan has been specially designed for removal of dust and fumes in work places where, due to long ducts, system-resistance is high and other conventional Exhaust Fans will not serve the purpose.

The basic functions of ventilation and air conditioning are effectively performed by Axial Flow Fan, especially in industrial process system, crop drying, mines and ships.
The EPC Axial Flow Fan is manufactured with components of proven quality. The concept of quality circle has been integrated with a full-proof quality assurance system, production technique and rigorous in-stage inspection.
The EPC Axial Flow Fan is driven by motors of high efficiency. The motors are capable of withstanding voltage fluctuation and rigorous duty requirements in hot and humid condition.
The EPC Axial Flow Fan is present in single-stage, double-stage, contra-rotating and multiple stage. The volume of air can be controlled by switching off some of the fans running in series. The EPC Axial Flow Fan fulfils a wide range of requirements - large volumes, high pressure, quietness, high temperature, wet conditions are all catered for. Whether the duty is air-conditioning or cooling sophisticated electronic equipment, there is an EPC Axial Flow Fan for the purpose. The fans can be mounted in various ways - horizontal, upward, downward. The variety also lies in long and short casings, bifurcated type and belt driven type.