EPC

AIR CIRCULATOR

Ideal for places where movement of large volume of air is necessary, such as cinema halls, auditoriums, hotels, restaurants, lobbies, workshops, etc.
Sturdily built, sleek and elegant Typhoon Air Circulators are specially designed for large air delivery, noise-free smooth running and dependable performance.
Available in several models - 2 winged, 4 winged, Pedestal and Bracket types. Comes in pleasing two-tone colour combination and also in other combination as per the customer's choice. The product range is tested to I.S. Specification No. 2997 - 1964.
A power packed totally enclosed capacitor type motor is specially designed for optimum performance. Provided with double ball bearings for extra durability.
The broad winged integrally cast aluminium impeller sets a large volume of air into far-reaching movement and is effective upto a distance of little over 15 metres (50 ft.)
Special Features
The height of the pedestal type can be raised by 250 mm with telescopic arrangement in the vertical column.
Choke type/Auto Transformer type regulator provides three running speeds plus off point. The regulator is an integral part of the pedestal type with an optional accessory for the bracket type.
The angle of air discharge can be adjusted vertically, upward or downward by 15o.
Stepless Regulators can be made available at extra cost.
The sturdy pedestal base fitted with rubber pads ensures more stability.
Grouting arrangement of the bracket type is totally enclosed.
Typhoon Circulators are available in 230 volts-single phase or 400 volts-three phase 50 cycles A.C. supply.
---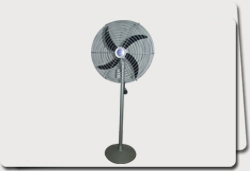 PEDESTAL TYPE
18" x 24" Sweep Air Circulators can be swivelled 360° and 30" sweep can be swivelled upto 200° on the horizontal plane. They can be tilted up or down upto 15° on the vertical plane. The impellers are well protected on both sides by strong wire guards.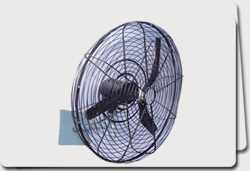 WALL MOUNTED / BRACKET TYPE
The wall mounted type Air Circulators can be swivelled and titled to the desired direction forapowerful air steam. Wire guards on both sides of the impellers provide protection.
Salient Features
Robust Construction

Smart Design

Large Air displacement at low power consumption

Extensive coverage of area

Low Sound Level

Capacitor type motor

Provided with titling and swivelling arrangement

Efficient even after prolonged period of usage

Dynamically balanced rotor and blades